Advantages of Horse fence panels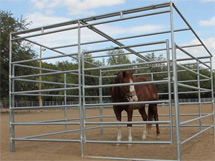 Horse fence panels built to be the best and safest livestock fencing panel available. Noble Panels can be used as portable or permanent horse fencing. The fence panels can be clamped together to make a Round Pen, Arena, Paddock or perimeter fence. Lasts longer with less maintenance than a wood fence, barb wire fencing or electric fencing.
We manufacture this new style of permanent livestock and horse fencing out of the same galvanized steel tubing as our high-grade panels and gates. The post and rail fence system is the perfect solution for continuous fencing of uneven terrain.
What are Horse fence panels?
Horse fence panels, also called cattle panels, horse pen, cow panels or horse fence panels, are popular in farmland of oversea countries, such as Australia, the USA and New Zealand and so on. Because cow panels surface is smooth and there is no sharp edge which can effectively prevent livestock from getting injured.
Corral panels are made from low carbon steel or galvanized tube. The tubes are completely welded together which make its structure more sturdy. The surface treatment can be hot-dipped galvanized and PVC coating which make horse panels corrosion and rust resistance.
round yard wholesale
If you need a wholesale round yard, please contact us, we will provide you with reasonable solutions and provide corresponding products.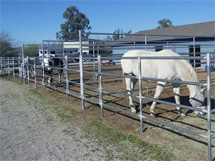 Horse pens are easy to install and dismantle, so it is convenient to be transported to anywhere you like for temporary or permanent use. Besides there are three kinds of panels according to rail shape: round, square & oval rail panels. You can choose cow panels according to your hobby and application.