The Hesco mil unit is a steel mesh gabion basket lined with geotextile, which is very suitable for use as a preventive barrier or to provide safe perimeter protection. Hesco mil can effectively protect the environment and human safety.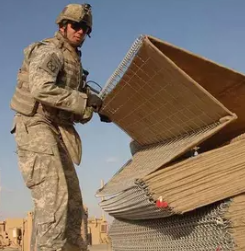 Military use of Hesco mil
Since the First Gulf War the rapidly deployable wire mesh baskets have been deployed in arduous and remote locations creating simple perimeter walls to complex city-like fortification, defending personnel, equipment and critical assets of the US Army, UK MOD, USMC, USAF and NATO .
Defensive barriers
Hesco mil has been used worldwide to create barriers for perimeter protection, construct temporary shelters and provide high-level security controls.
Since the first Gulf War, the HESCO MIL force has become an important part and benchmark in the protection of global forces, and has been used by military organizations including the US military, British MOD, USMC, USAF and NATO in every major conflict. Saved countless lives and mission-critical assets.
The Hesco mil unit is a multi-chamber barrier system lined with heavy-duty non-woven polypropylene geotextile, made of welded zinc-aluminum coated steel mesh.
The unique design, strength and versatility make the corner easy to construct, and after connecting and filling, the system will form a defensive barrier to the surrounding landscape, thus forming a barrier with excellent strength and structural integrity.
MIL units
Whether used as a protective barrier or to define boundaries, HESCO MIL units have been employed to safeguard equipment, facilities, vehicles, personnel and critical assets in a variety of operations such as military, peacekeeping, humanitarian and civilian.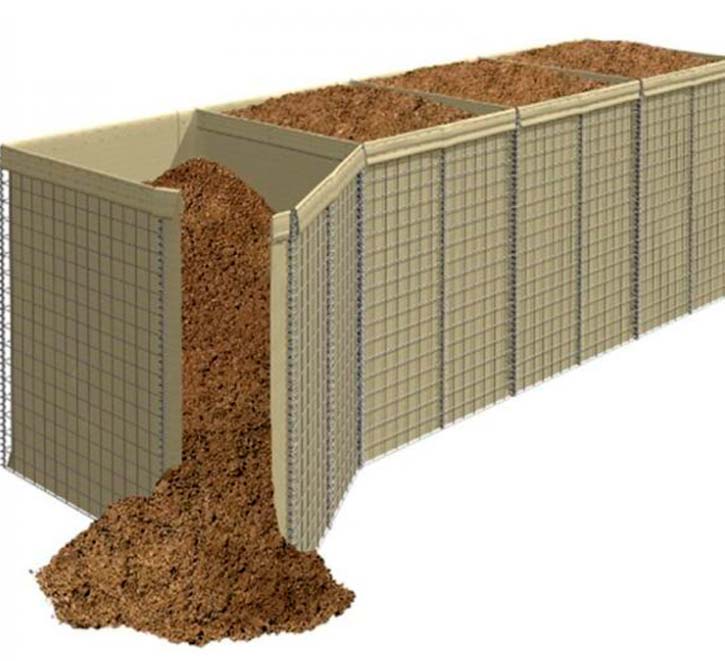 Recoverable units
Recoverable MIL units are engineered to be deployed in exactly the same way as our standard products, however, with the removal of one pin, the fill material will flow freely from the cell and the units can be flat packed for transportation to a disposal site and recovered fully intact.
Protective structures
HESCO Accommodation Bunkers (HAB) are specially engineered shelters for personal protection, command stations to in-field medical centres, and overhead protection for ammunition stores.
The HAB range of products provide both side and overhead blast and fragmentation protection, and easy to build with minimal manpower and equipment.
The shelters will house up to eight personnel providing a safe haven in remote and harsh environments, such as Forward Operating Bases, Company Outposts and remote industrial facilities.
The Lightweight Bunker Roof (LWBR) specifically designed to provide protection against indirect fire. The roof can be built on almost any wall capable of taking the load that the roof will impose upon it.
The structure can provide collective protection, for living accommodation, field hospitals, safe houses or overhead cover for ammunition and fuel stores.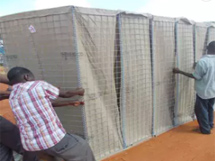 Guard posts
The HESCO Guard Post kit allows assembly of a small emplacement with two-foot thick walls and 18in (0.48m) of overhead cover. Observation point forms are included in the set as are roof joists and roofing material.
Ground mounted and elevated sangars
The Ground Mounted Sangar and Elevated Sangars are modular units comprising of our earth-filled protective units and alloy components supplied by Brand Energy Infrastructure Services.
Rapid deployment for HESCO MIL units
RAID is a rapid delivery system, designed and engineered for the deployment of HESCO MIL units.