DunQiang provides various cattle stall systems and materials for small or large herds. Use our posts and metal tubes to create a perfect set of Cattle working pens.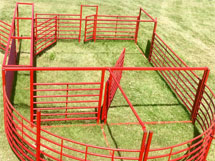 Design plays an important role in small herd cattle working pens!
Construction and designing a cattle working facility does not require too much money. Being resourceful is always better with a simpler design. Generally, a holding pen provides 14 square feet per calf and 20 square feet per cow. If we talk about the width of alleyways, 12 feet is recommended.
The crowding pen, on the other hand, should be 10 feet in its diameter for rounded tubs. And 14' x 20' for a bud box. The curved pens are to make the animals feel that they are going back or turning around when actually, they are moved to the chute.
How to Install Cattle Working Pen Gate
The most important part of a cattle handling facility is the headgate. It should be strong, safe and sturdy to contain all kinds of animals; small and big. There are many kinds of gates such as positive control & fully opening, scissors- stanchion, and self-catching.
Self-catching headgates close automatically because of the animals' movement.
Scissors-stanchion headgates consist of bi-parting halved which pivot at the bottom.
The positive control is the ones that lock around the animals' neck firmly.
Squeeze Chute
It makes the restraining process easier and safer for animals. It can be simple or complex depending on the design. Hyraulic chutes are getting more popular among farmers nowadays.
Tips for Handling Cattle Safely and Easily
Reduce noise, color contrast, and shadows
When cattle cannot see what is in front of them, they are provoked to take a flight. Color patterns and shadows stop and confuse them. It is better to consider the angles of the sun when setting up a chute. Putting solid side panels can reduce the shadows. Another most important thing is to eliminate as much as you can. Dangling chains and rattling gates can disturb them more often.
Holding pens
In order to sort calves from cows, it is better to have two holding pens which must have a gate between them.
Size of a chute and working alleys
Chutes and working alleys must be 18 inches in width in order to prevent the cattle from turning. Walls must be strong and sturdy enough to contain the biggest cows.
Use a Bud Box
To stop the cattle from going back to where they came from, consider the use of a Bud Box. A holding pen is also called a bud box which is connected and leads into a chute.
Install gates
Install a gate in the direction that you want your cattle to move. Connecting pastures to alleyways and paddocks work better.
Make drinking easier
Try to make drinking as much easier as possible. Install two to three automatic water drinkers so that a large number of cattle can drink from them in less time and go back to grazing.