Most Pipe cattle pens look the same, but DunQiang uses high-quality galvanized materials and a certified welding process to manufacture Pipe cattle pens. We guarantee that our Pipe cattle pen is of high quality and reasonable price.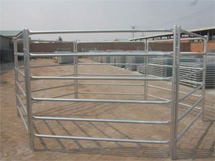 Pipe cattle pens manufacturer
DunQiang is an experienced manufacturer and manufacturer of Pipe cattle pens. Our products are sold overseas, and our pipes are galvanized, so that we can ensure that our Pipe cattle pens are less damaged by corrosion and make our Pipe Cattle pens can be used for longer years.
How to design a satisfactory Pipe cattle pens
We like to concrete all the posts in my corrals, my line posts get one bag of concrete and the gate posts get two or more depending on how much pressure that point is likely to see from livestock. If you would like to make archways or bow gates over the span, you can get away with less concrete and have plenty of stability. I like archways in sorting alleys or loading chutes for protection against cattle spreading the corrals. Be careful that the arches are high enough that a cowboy doesn't hit his head when following or sorting cattle.
Using a band saw, you can cut perfect copes or saddle cuts for each of the rungs you are putting between the posts. There is a little trick to this and once you have it, your corrals will go up fast.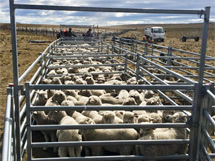 Pipe cattle pens size
For 2 ⅞" pipe corrals, measure your span two inches longer than what you want and mark the top of the pipe with a straight edge so your copes line up. Then, make the lines around the pipe at the exact length to fill the span. So if the distance between given posts is eight feet, first cut the pipe 8' 2" and mark a plumb line to ensure your saddles line up perfectly. Then mark one inch off the edge and you are ready to cut your saddles. Now take your band saw and cut a diagonal line from the center of the post to the back of the one-inch line and repeat so that you have a saddle cut that will perfectly go around the post where it needs to match. This method will take you about ten minutes to master and will produce the perfect cut every time. If working with 2 ⅔" pipes, do the same thing but make the line ¾ inches off the end of the pipe.
Strong pipe cattle pens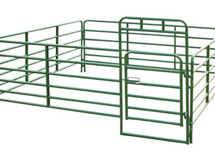 Many use sucker rod for their spans because they're cheap and relatively strong. I suggest you either weld clips onto the post that will allow the sucker rod to free float or blow through the posts with a plasma cutter or oxy-acetylene torch and run the sucker rod through and weld tight. The second option gives the best looking and strongest option for a set of pens. I warn against welding the sucker rod to the outside of the post as these tend to pop off when cattle crowd it or during temperature fluctuations.
There are many options for ranch or homestead fencing and it's important to find the best material at the best price. If budget is a concern, tap into your support network to brainstorm creative and cheap fencing ideas.