The green wire fence has a green vinyl coating, which can effectively prevent the fence from rusting, can be used for a long time and is still very strong. The green wire fence is mainly used for garden fences and plant fences.
Green Wire Fence parameters
Our PVC-Coated Welded Wire Mesh Fence Rolls are manufactured from steel and galvanised with a zinc coating to shield it from rust. It's then coated in green PVC plastic to add another layer of protection, creating a smoother finish which is safer to use with animals . The green finish also makes it much more attractive and easier to blend into gardens and natural environments. It is welded at the joins to ensure the mesh is extremely strong, durable and long-lasting. This wire mesh is available in a variety of different lengths, heights, apertures and wire thicknesses.
Green wire fence purpose
Garden fencing
Animal/pet enclosures including rabbit hutches
Rabbit fencing and chicken coops
Cat fencing
Dog fencing-recommend to use a thicker/heavier gauge-12g
Tree guards
Aviary cages
Fruit cages
Crop protection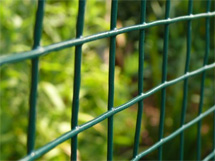 green wire fence thickness
19 gauge (1mm thick)
17 gauge (1.4mm thick)
15 gauge (1.8mm thick)
12 gauge (2.5mm thick)
Associated Products
In addition, we also provide you with the following related products and supporting products
4x4 welded wire mesh