If you have just raised a puppy, if you particularly like puppy, then you must rent or buy a temporary dog ​​fence to ensure that your home or yard will not be damaged by dogs.
Temporary garden fencing for dogs
If your home's garden is large enough, and a dog fence can be specially created for your dog, maybe this is your best choice, so as to prevent your dog from ruining you when you and your family are not at home. Exquisite garden.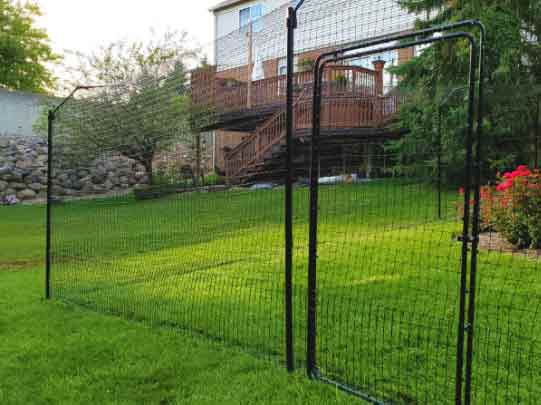 Fences can do a lot of things for a property—provide security, boost curb appeal, or keep pets and children close to home. Landlords who purchase property that is not fenced may want to consider adding one to enhance that amenities list for their rental property , as well as raise property values. However, choosing the right size, style and material from all the different kinds of fencing options isn't an easy task for landlord without doing a lot of research first.
What Kind of Property Needs Fencing?
Landlords must deal with fencing decisions at some point, whether it's with a single family rental property or a multi-unit property. Single family properties are often fenced, both for privacy from close suburban neighbors and to keep the occupants safe and secure, especially children and dogs. These types of properties may also be regulated by HOAs as to what type, style or height, or even whether or not a fence can be put in at all.
Multi-unit properties are also often fenced, mostly to mark the entire property, prevent non-residents from entering via non-designated entry points and to eliminate inter-block short cuts. Landlords may even have to consider fencing around community amenities like playgrounds, pools and courtyards. No matter what the situation, landlords will benefit if they do their research onto the reasons they need a fence for their rental property.
Before installing any kind of fence, landlords need to ask themselves why they are installing one in the first place. Is it to provide a safe place for children and pets to play? Is it to add privacy to a yard on a busy street? Is it to increase property value and improve the look of the property? No matter what the motive, putting the reasons into words will help landlords zero in on the right kind of fence for their needs. Let's take a look at some of the some pros and cons of all the different types of residential fencing.
The advantages and disadvantages of different fences
Temporary Fence for Rental House
If you suddenly need a temporary fence for renting a house, you will want something cheap, and the money will not break your bank. DunQiang will provide you with a variety of solutions, you can leave a message for us according to your needs, and we will provide you with solutions as soon as possible. Or you can check our animal fence products.
Chain Link Fences
The chain link fence is pretty typical for suburban homes built in the modern era. Chain link is a cost-effective and durable fencing choice which translates into a lot of benefits for property owners. This type of fencing is very durable and because it is quite flexible, it can withstand all kinds of pressure. However, many people don't like the look, feeling like it looks too utilitarian or cheap. Overall, chain link fencing doesn't provide as much privacy as some of the other fencing options but when combined with thoughtful landscaping or privacy slats, it can be a viable option for landlords. It covers just about any type of terrain as well, from flat to sloped properties.
Chain link fencing doesn't need much maintenance, either, and it is pretty difficult to ruin. It may rust unless it is coated with vinyl, but more modern varieties incorporate anti-rust elements. Because it is able to withstand the elements for the most part and doesn't require any staining or painting, chain link is a popular choice for landlords wanting a low maintenance, affordable option.
Wrought Iron Fences
On the more expensive end of the metal fence spectrum is wrought iron fencing. Renown for beauty and strength, wrought iron comes in many decorative designs that can be customized for a one-of-a-kind look. The wrought iron fence is definitely the strongest fencing option, and simultaneously provides a classic and elegant look, especially to more historic homes and properties. Wrought iron is a traditional, heavy fence that is perfect for property owners who are concerned with security as well as durability.
This type of metal fence requires minimal maintenance. Wrought iron fences are galvanized for rust resistance as well as treated with a powder coat finish to prevent UV fading. Iron pieces are welded into place and often come with a multi-decade warranty. As the strongest type of fence available, iron definitely ought to be considered.
Aluminum Fences
Mimicking the look of wrought iron without the price or the weight, aluminum fences are a fine alternative for property owners that want the upscale look of iron but don't have the budget to do so. While aluminum fencing costs more than wood, it is an affordable mid-range option for property owners. Both strong and beautiful, aluminum fencing encloses an area without compromising a property owner's view. The dark aluminum fencing blends in with the landscaping, rather than standing out in stark contrast like wood or vinyl fencing does . Another benefit of decorative metal fencing is that they can be installed on just about any type of land, no matter what the grade.
Aluminum fencing is virtually maintenance free as well, and the powder coating prevents rust and fading from UV rays. Because aluminum fencing doesn't need painted or stained, property owners can get it and forget it.

Vinyl Fences
Capturing the ultimate in modern looks, vinyl fencing is sleek, durable and in high demand nowadays. With a range of textures, styles, colors and heights, vinyl fencing is the most diverse of the fencing options. Among the more popular options are the 6 -foot privacy style and the 4-foot picket fence style.
There is virtually no care involved with vinyl fencing as it doesn't need stained or painted, and it won't rot. This type of fencing material doesn't blister, warp or rot. Vinyl fencing is more expensive than most other fencing options but the convenience and longevity make it worth it for many property owners.
Choose the right fence manufacturer
For landlords, there is no right answer, because they start choosing fencing materials for rental properties. Owners need to consider various factors when making fence decisions, such as budget, property topography, tenants use, what kind of neighborhood is like, whether municipal regulations or HOA rules apply, and what kind of maintenance is required. They also need to consider their ideal tenants and what kind of fence can attract suitable applicants.
In the end, landlords who spend time researching and evaluating all the different options will quickly discover that one type of fence is the right choice for their rental property. This is an investment that will benefit many years to come, so no matter what they choose, the landlord has made the right choice when choosing their property right.