Site Safety Fencing Supplier, Site Safety Fencing Manufacturer
Whether your priority is anti-climbing safety or heavy-duty durability, "site safety fencing" provides a full range of
construction site safety fencing, DunQiang fencing will provide you with wire mesh supply and service worldwide.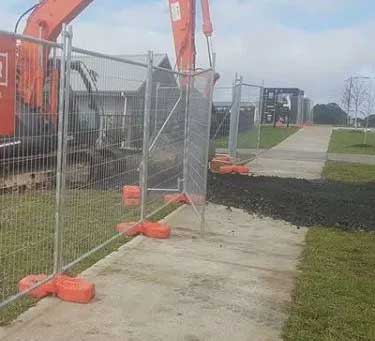 Key features
Fully galvanised, durable fence panels
Rapid deployment
Anti-climb mesh
Round top option available
Speedy installation, assembly and repositioning
Relatively lightweight for easy transportation and storage
Easy stacking
Fencing panels
Our fences are fit-for-purpose across a range of specifications:
Anti-climb fencing panels – 2 m (height) x 3.5 m (width), weight 13.8 kg.
Heavy duty anti-climb fencing panels – 2 m (height) x 3.5 m (width), weight 15.9 kg.
Heavy duty round top anti-climb fencing panels – 2 m (height) x 3.5 m (height), weight 16 kg.
All our construction site safety fences incorporate a mesh design, proven to offer enhanced security in comparison
to other temporary fencing. Coupled with a range of footing types and accessories to address various weather,
environmental or site-specific factors, our site safety fences can be deployed successfully to suit most construction,
safety and control requirements.
Anti-climb features
Safe Site Facilities' Heras anti-climb fence panels offer anti-climb mesh, offering improved strength and a proven
climbing deterrent. The additional option of round-top fencing panels offers extra strength and an enhanced anti-climb
design, whilst all of our construction site fencing offers a highly durable galvanised finish.
Versatile and portable
All our fence panels are versatile and can be deployed to create complete barrier systems, which can also incorporate
gates and access points suitable for a range of purposes, including:
Construction site barriers
Event fencing
Pedestrian and crowd control
Boundary control
The non-permanent installation methods offered allows these fence panels to be quickly installed for
emergency deployment or repositioning to secure hazardous or vulnerable areas.
Long term and low cost
Although suitable for quick deployment, the galvanised steel construction of Safe Site Facilities construction site safety
fencing is robust enough to withstand all weathers and to provide long operational life, offering significant value for
money when used long-term. For short-term or one- off events, our fencing hire service affords a safety-conscious
but low-cost option which includes delivery to all parts of the UK.